Special Response Team: Assist Anderson County
10/23/2023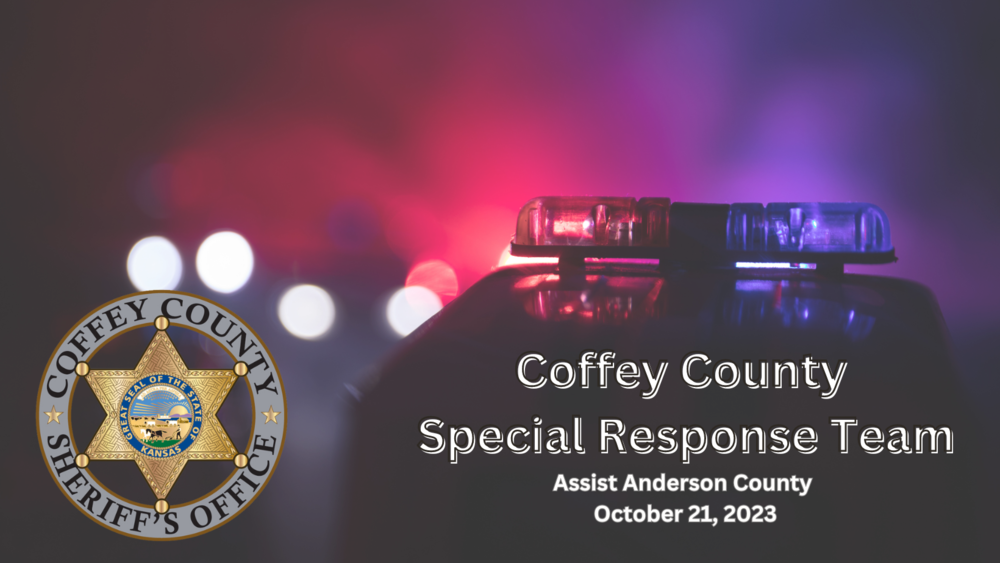 On the afternoon of October 21, 2023, Coffey County Sheriff's Office received a call for assistance in Garnett, Anderson County, Kansas.
The nature of the call out was a white male who had allegedly assaulted his wife in a violent manner. Local law enforcement arrived to find that the individual had barricaded himself into the garage, refusing to comply with law enforcement requests and commands to surrender himself voluntarily.
Coffey County Special Response team members answered the request for assistance from local law enforcement. The suspect was located and observed to have a rifle and a shotgun, along with multiple magazines of ammunition, in his hands and strapped to him. The suspect made repeated threats to law enforcement officers on the scene about his willingness to use the firearms against them and to engage all officers in a firearms altercation.
Officers were able to use less lethal means to eventually subdue the man, after 5 hours of attempted negotiations, and take him into custody. No officers or bystanders were injured during the incident. Charges are pending against the suspect, identified as James Chambers, an adult male resident of Garnett, Kansas.
All persons are presumed innocent unless proven otherwise in a court of law.