Halloween Safety Tips
10/31/2023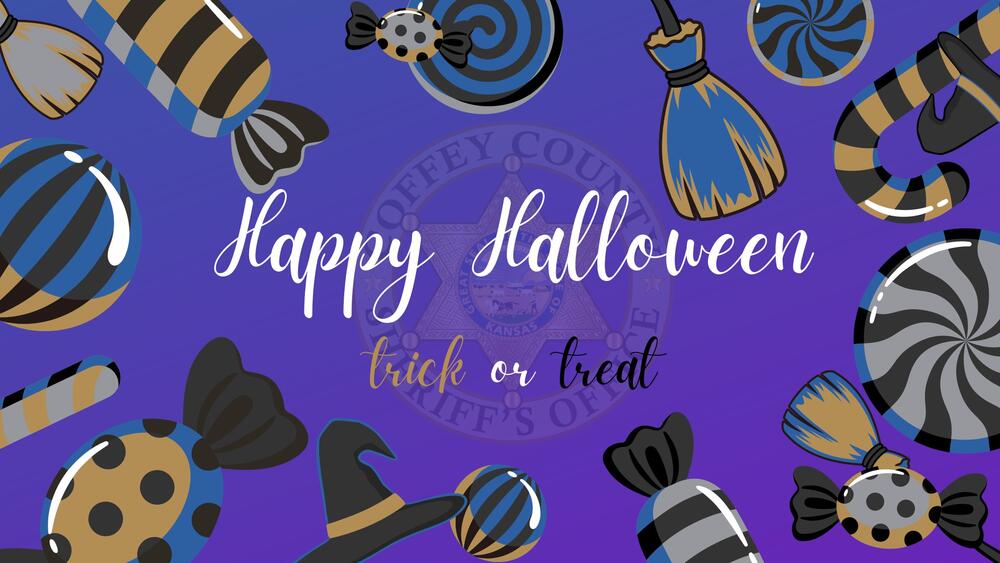 Have a Fun, Safe, and Happy Halloween, Coffey County!
With many local Halloween festivities happening today, we want to remind you all to be aware and stay safe! Whether you are a driver in a busy area, a pedestrian partaking in local activities, or a family accepting treats from potential strangers, there are things you can do to keep yourself, your community, and your children safe!
1) Know the Home: Whether you are going door to door or participating in a local Trunk or Treat, know whose home (or trunk) you are approaching. Check the Offender Registry on our website to know where potentially harmful citizens may reside in your community.
https://www.coffeycountysheriff.org/offender-registration
2) For Pedestrians/Families: According to the American Academy of Pediatrics, child pedestrian accidents are more likely to occur on Halloween than any other holiday. We encourage you to avoid a potential accident by following these tips!
Always accompany young children.
Know the route or area that unaccompanied older children plan to take.
Talk with children about the risks of distracted walking.
Cross the street in established crosswalks, and in groups.
Stay on well lit streets and/or use the sidewalk.
Don't assume cars will stop.
3) For Drivers: The United States Department of Transportation recommends these tips for travel when entering areas with pedestrians, especially on Halloween.
Be alert for trick-or-treaters on Halloween. Slow down and continue to scan the road in areas where they are likely to be or where sight distances are limited.
On Halloween there will likely be more pedestrians on the roads and in places where they are not expected. Slower speeds save lives.
Stay alert for pedestrians who may come out from between parked cars or behind shrubbery. Stop, wait for them to pass.
Don't look at your phone when you're driving. Your attention needs to always be on the road.
If you see a drunk driver on the road, contact law enforcement.
4) Check the Candy Before Children Consume It: Candy has the potential to do harm due to allergens, choking hazards, and tampering. Although we want to believe in the good of everyone, Halloween sets up the potential for unscrupulous activities that may seriously harm our children- including contaminated candy. Before you allow your children to consume their sugary treats after a fun evening PLEASE check them thoroughly. The Food and Drug Administration recommends these tips to stay safe!
Don't eat candy until it has been inspected at home.
Eat a snack before heading out to avoid the temptation of nibbling on a treat before it has been inspected.
In case of a food allergy, check the label to ensure the allergen isn't present. Tell children not to accept - or eat - anything that isn't commercially wrapped.
Parents of very young children should remove any choking hazards such as gum, peanuts, hard candies, or small toys from the Halloween bags.
Inspect commercially wrapped treats for signs of tampering, such as an unusual appearance or discoloration, tiny pinholes, or tears in wrappers. Throw away anything that looks suspicious.
Stay safe and have a Happy Halloween!